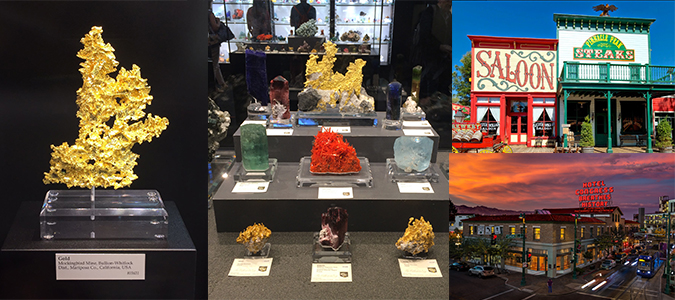 Tucson Mineral and Fossil Show (01 to 14 de February 2016)
Tucson is a must destination for lovers of minerals, fossils and gemstones, each year in winter, the city is transformed for hundreds, I would say thousands of stores of the most diverse places in the world invade the city. For about a month all revolves around minerals, most of the hotels convert their rooms in […]
Tucson is a must destination for lovers of minerals, fossils and gemstones, each year in winter, the city is transformed for hundreds, I would say thousands of stores of the most diverse places in the world invade the city. For about a month all revolves around minerals, most of the hotels convert their rooms in themed stores, streets and vacant lots are filled with stores and tents, or in different places of the city you can see shows with beautiful samples.
I stayed for two weeks at the Hotel Tucson City Center, popularly known as Inn Suites, as this hotel is mostly recognized with raw minerals for collectors, not with gems or fossils as other hotels. Coexist in this hotel from the largest and most recognized vendor's minerals, even the smallest, so you can buy samples from a few dollars to thousands of them, but it is the best thing you can always ask a good rebate, regardless of the price of the sample. In my head I have memories of the beautiful Calcite from the Elmwood Mine, stunning Cuprites of Rubtsovskoe Mine of Siberia, the recognized Crocoites of the Adelaide Mine, the always aesthetic pyrites of Navajún, as also recognized vendors such as Jordi Fabre, Spirifer Minerals, Collector's Edge, Crystal Classics, etc.
For some people it may seem routine, but for us we enjoyed minerals, spend day touring the hundreds of room´s, always thinking "as would look like this sample in my collection," every moment comparing quality versus price, never buy without compare, because you can find two similar quality samples with breathtakingly different prices. Daily breakfast and dinner are important, because for lunch just simply a hamburger or hotdog to regain strength. For dinner there are very good alternatives in Tucson, for example, for those who enjoy meat, in the downtown this "HUB Restaurant & Ice Creamery" or about 20 minutes' drive of the city center is a small town, set in the Wild West, has a very good restaurant "Pinnacle Peak Steakhouse and Saloon". In the downtown you can find a lot of restaurants, to those who like Japanese food I recommend "OBON Sushi Bar Ramen" soups are very nice. Also in the center it is a classic hotel, restaurant and café "The Hotel Congress" with a diverse menu and with a great vibe for fun. Finally, a couple of blocks from the hotel TCC, with classic Mexican atmosphere, "Mariscos Chihuahua" where you can enjoy seafood at very reasonable prices.
The best samples gather at a Main Mineral Show, you have to visit for obligation. From the hotel Tucson City Center you can walk about 10 to 15 minutes along the Grande Ave. and easily reach the Tucson Convention Center, where you must pay for the ticket a little less than 15 dollar´s. Inside the convention center there are two main shows or auditoriums, smaller rooms and a food court, so you can observe for a day, minerals, jewelry, gems, fossils, art and decoration, all related to the wonders of the kingdom of minerals.
This trip is summarized in an unforgettable experience, I have acquired new specimens for my collection, I've got new friends and new customers, the threshold for which means an exceptional sample has risen considerably.
Now we must prepare to live this experience again the next year …….